A terrifying tightrope wedding: Rule no.1 – Don't look down!
What will you do if your Fiancé asks for a tightrope wedding, or nothing else?
If you must marry Chris, you must be prepared for a tightrope wedding!
Latest job opening. Click here to apply!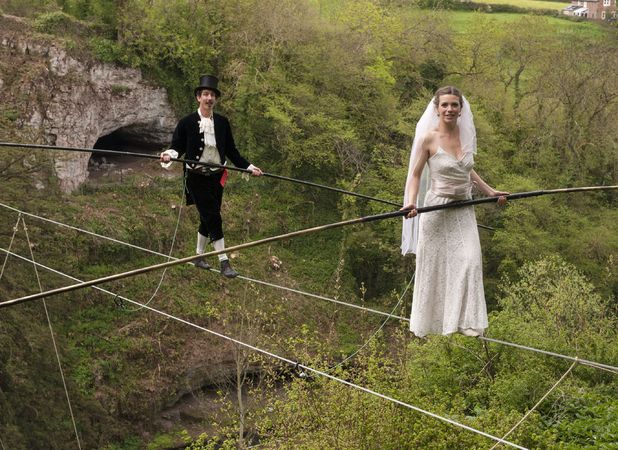 It is true that many people have wedding jitters before the big wedding day, but 25 year old Phoebe had more reason to be extremely nervous during her wedding on May 1st 2015.
Phoebe successfully climbed and walked on a tiny dangling rope fixed 100 feet above ground to wed Chris, a 37 year old man she loves.
According to Reveal, Chris Bull is a professional tightrope walker while Phoebe Baker did her first ever high-rise walk four years ago. Notwithstanding the little experience she has in 'tightrope walking', Phoebe successfully tied the knot with Chris walking on tightrope 100 feet in the air at the Wookey Hole Caves in Somerset. .
The good news for their guests is that they were allowed to watch from the ground and on TV without climbing up to walk on the dangling rope with them.
Tightrope Wedding in history
The first of this type of wedding was done in the 1950s in Toulouse, France. It was not an ordinary
wedding. It was a terrifying wedding that took place high in the air, on a piece of rope.' Take a look at the video.
.
From Westernmorningnews:
This is the moment a couple took their romance to new heights during a full dress rehearsal for their wedding - on a tightrope 25 metres off the ground.
Chris Bull - in full morning suit - and Phoebe Baker - in wedding dress - started from opposite ends of the 75 metre-long highwire and met bride in the middle. They said 'I do' over the heads of around 100 friends and family watching from the ground at Wookey Hole in Somerset. The event was UK's first-ever highwire wedding. Chris, 37, is a professional rope walker who fell for Phoebe, 25, at a circus show where she was a costume designer.
This type of ceremony is so unusual that signing the marriage certificate isn't actually legal up in the air and they have to sign it on the ground before heading up.
Preparations
Prior to the wedding, Chris who lives with Phoebe in an original 1930s showman's caravan in Hanham, Bristol said: "I've been a rope walker for 12 years and it was something I'd always dreamt of. "I never thought I'd find a wife to agree but I proposed to Phoebe in Burma and one of the first conversations we had about it was me saying how cool it would be to get married on a high wire. "She thought it was a crazy idea but to my surprise she actually said she'd be up for it.
Chris continued: "Phoebe had been developing her skills on a low wire at the time so we decided with some more practice we'd give it a go! "She has now been practicing in Belgium with famous wire walker Denis Josselin." He added: "It's not actually legal to sign the register in the air so we have arranged to have a small ceremony in the caves beforehand and then the main wedding event on the wire. "One of our friends who is a ringmaster is ordained to marry people so he will be conducting the ceremony from the ground with a megaphone.
"We're also hiring the Wookey Hole theatre on site for a cabaret-style reception that our circus performer friends will be performing at. "We are so lucky to have found a venue to make our crazy dreams a reality. Daniel Medley and Gerry Cottle, the joint owners, have been brilliant." Circus showman Gerry agreed to host the highwire wedding after Chris read his autobiography and emailed him asking if he could help stage it. Chris said: "It was a dream come true and Gerry has been 100 per cent behind the idea, helping us with rigging and planning. "This is a day we're going to remember fondly for the rest of our lives and we're so pleased it will reflect us as a couple." Chris said!
Phoebe said: "I'm really excited, this is Chris and I all over! "My mum was slightly nervous at the thought of the idea first of all, but we've agreed to install a safety wire at her request so she's fine now. "Both of our families are really supportive of our circus lifestyle and we're looking forward to celebrating a special day together." Wookey Hole is one of the largest cave systems in Europe and runs a Circus School for children so much of the equipment needed was already in place. Joint-owner and director Daniel Medley said: "We've held several weddings at Wookey Hole in the caves themselves but never any as ambitious and unique as Chris and Phoebe's. "We're up for pretty much anything here and if we can create a really different, special wedding day which people will remember for years then we will."
Latest job opening. Click here to apply!
You May Also Like:

20 ways to throw the best I fell for an ugly man Teenager who 'underwent
wedding ever to win back ex-boyfriend

Finding power to overcome Ugliest celebrity wedding 5 things you must let
worries dresses be happy and successful