Don't miss this: Several national and international new job openings.
Click here to apply
Read on...
Woman shot in the leg but didn't know until doctors found bullet in her leg 5 days later!
A Florida woman was shot in the leg while sitting at a cafe on Independence Day but didn't know until doctors found the bullet in her leg five days later.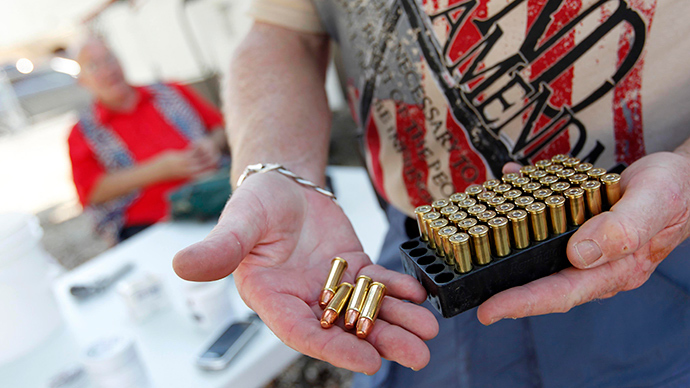 It happened when the woman was celebrating America's Independence Day on the patio of a downtown bar at 112 W. Georgia Ave, Florida at 10:35 p.m.
The incident has police trying the figure out where the bullet came from and the owner of Cafe Da Vinci, Dan Reed, said he believes someone was firing a gun as part of Independence Day and the bullet fell from the sky.
42 year old Heather Charlebois told The Daytona Beach News-Journal that after days of pain from what she initially thought was a firecracker, she went to a hospital. Doctors found a .38-caliber bullet lodged in her leg.
Charlebois was on the patio of a cafe on Saturday night when she felt a pain in her leg. She checked it out in the bathroom, but there was little blood.
"My first thought was somebody hit me, slapped me open handed really hard on my leg and pinched me, but it did not make any sense because I didn't see anyone," Charlebois said."They told me at the hospital they think it's a .38-caliber bullet lodged 4 centimeters inside my leg."
The mother of four said that being shot never crossed her mind. Noises from the bar patrons, the live band, and the fireworks and firecrackers being set off would have drowned out any sounds of gunfire.
"I don't recall hearing a gunshot," Charlebois said. "The sound that we actually heard I guess was the penetration of the bullet going through my jeans and into my leg.
"Days later Ms. Charlebois sought medical attention for the injury and it was discovered there was bullet in her leg," said DeLand police Sgt. Chris Estes said.
Police say there were no reports of gunfire but believe the bullet might have been fired into the air from some distance away.
"Well, it's safe to say that at the moment we don't know where it came from," Estes said. "There is no indication a gun was fired in close proximity to where she was sitting at this point so, another theory is that it was fired into the air from a distance."
Estes said investigators are hoping someone will come forward with some helpful information and so police can answer the unknowns about the incident.
Source: News-journalonline
You May Also Like:
Several national and international new job openings. Click here to apply