Scroll down...

Post here Love stories Store Register Relationships Politics Celebrity Pg 1 Pg 2 Pg 3 Pg 4 Crime What's new?
Texas man tried to shoot an armadillo, but bullet bounced back and hit him in the head
If you're thinking about shooting an armadillo, please think twice before shooting!
A man from Texas is being treated for injury sustained in the head. He saw an armadillo and shot at it three times with his 38 revolver, but his own bullets bounced back and hit him in the head. The man was airlifted to a nearby hospital. The status of the animal is unknown.
Cass County Sheriff Larry Rowe said the man, who was not identified, went outside his home in Marietta, southwest of Texarkana, at around 3 a.m. on Thursday morning. He spotted the armadillo on his property and opened fire.
"His wife was in the house. He went outside and took his .38 revolver and shot three times at the armadillo," Rowe said.
The animal's hard shell deflected at least one of three bullets, which then struck the man's jaw, he said.
The man was airlifted to a nearby hospital, where his jaw was wired shut, according to Rowe.
The status of the animal is unknown.
"We didn't find the armadillo," the sheriff said.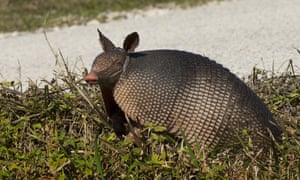 According to Chron.com, this is the second case of an armadillo-shooting backfiring this year.
In April, a man from Georgia accidentally shot his mother-in-law after targeting armadillo.
The bullet ricocheted off the armadillo and went through a fence and the back door of the woman's mobile home before hitting the 74-year-old woman, Carol Johnson, as she sat in her recliner.
Sheriff's deputies told WALB-TV that 54-year-old Larry McElroy fired his 9mm pistol at the armadillo on Sunday night in the southern state of Georgia.
McElroy was about 100 yards (90 meters) away from the home when he shot the armadillo.
That armadillo died, but it's unclear whether the one involved in this latest incident survived.
What we know about Armadillo
Armadillos are New World placental mammals with a leathery armour shell. According to national geographic society, of the 20 varieties of armadillo, all but one lives in Latin America. The familiar nine-banded armadillo is the only species that includes the United States in its range.
Armadillo is a Spanish word meaning "little armored one" and refers to the bony plates that cover the back, head, legs, and tail of most of these odd looking creatures. Armadillos are the only living mammals that wear such shells.
You May Also Like: click photo to read

Lion bites zoo employee Some of the most stunning American hunter kills
to death in China spots in Africa Zimbabwe's beloved lion

Most Dangerous Countries Dog bites boy to death Lion kills American woman in
To Visit in Chicago South Africa