Officials announce proposal that would establish California as separate nation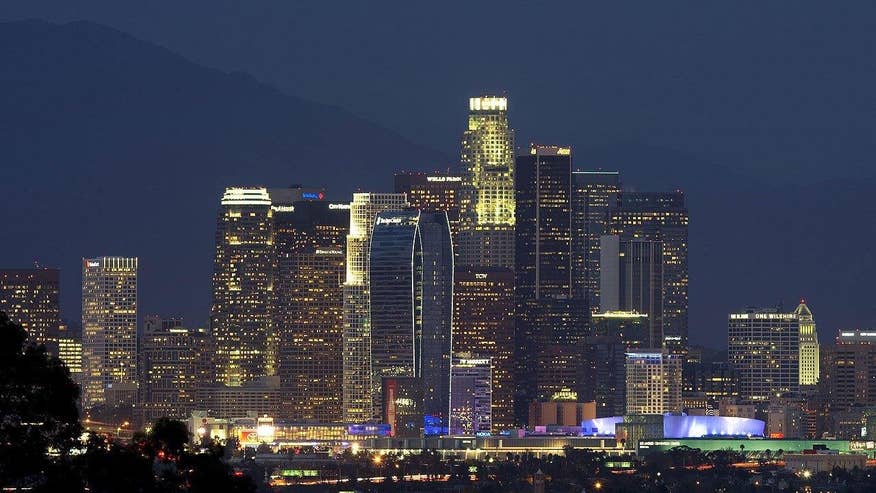 A proposal for California to secede from the United States was submitted to the Secretary of State's Office Thursday January 26, 2017.
The proposed "Calexit" initiative - its name borrowed from the UK's "Brexit" departure from the EU - would ask voters to repeal part of the state constitution that declares California an inseparable part of the U.S. Read more
Fears growing over the safety and whereabouts of North Korea leader's wife
Fears are growing about the safety and whereabouts of North Korea's first lady, who has vanished from public view over several months. Her last public appearance was in March 2016.
Ri Sol-ju is thought to have tied the knot with her food-loving fella Kim Jong-un in 2009 and soon after she gave birth to his child and heir to the hermit state, Thesun reports. Read more
Donald Trump: 'Just cancel the election and give it to me'
As the US presidential election gets tougher each day, the GOP presidential candidate Donald Trump has urged American's to just cancel the election and give it to him!
"What a difference. You know, what a difference this is," Trump said during a rally in Toledo, Ohio, after comparing his tax plan with Hillary Clinton's. "What a difference. You know, what a difference this is," Trump said during a rally in Toledo, Ohio, after comparing his tax plan with Hillary Clinton's. Read more
Mitt Romney: Gosh! Why didn't I run for election this year?
Mitt Romney has constantly expressed disappointment in the state of the presidential race, joking that he often asks himself why he stayed out of the 2016 race for the White House.
"I get asked on a regular basis, 'Boy, why aren't you running this year?' I ask myself that a lot too. But I did that once," Romney said. Read more
Trump: I will accept election results 'If I win'
Speaking about presidential election result, The US presidential candidate, Donald Trump said he would "promise and pledge" to accept the results of the election if he wins.
"Ladies and gentleman, I wanna make a major announcement today," Trump said during a rally in Delaware, Ohio. Read more
Is Russia Getting Ready for a Global War?
Russia is ordering all its officials to fly home any relatives living abroad amid heightened tensions over the prospect of global war according to a new report.
Politicians and high-ranking figures are said to have received a warning from president Vladimir Putin to bring their loved-ones home to the 'Motherland', according to local media.
It comes after Putin cancelled a planned visit to France amid a furious row over Moscow's role in the Syrian conflict and just days after it emerged the Kremlin had moved nuclear-capable missiles nearer to the Polish border. Read more
I may not support your reelection. Nigeria's first lady told husband
Amid deep recession and accusations of nonperformance, the Nigeria's first lady has told her husband that she may not support his re-election.
The president, who was elected last year as a no-nonsense candidate to clean up Africa's biggest democracy has fallen in his popularity has fallen amid various spiraling crises — a faltering economy, a deadly insurgency, a devastating famine. And now, even his wife is skeptical about his competence to rule the country. Read more
Indonesia rejects international pleas for mercy and executes 4 drug convicts
Despite international pleas to president Joko "Jokowi" Widodo by Huma Rights Watch to commute the death sentences of at least 14 people scheduled for executions for drug trafficking, Indonesia has just executed four out of 14 by firing squad today, Friday 29, 2016. Indonesia's deputy attorney general confirmed. Read more
Former Chinese top presidential aide sentenced to life in prison for corruption
A Chinese court has sentenced a powerful former Chinese presidential adviser to life in prison, in one of the highest-level cases in the country's anti-corruption campaign.
Ling Jihua, who served as the top aide to former Chinese President Hu Jintao, was sentenced to life in prison on July 4th, 2016 after being convicted of accepting bribes, stealing state secrets and abusing power. Read more
Wife of America's lowest paid governor takes up job as a waitress
The wife of America's lowest paid governor, Ann LePage, has taken up a job as a waitress in a restaurant. She is now saving up to buy a Toyota car. She took up a job at McSeagull's restaurant, Thursday, June 23, 2016, in Boothbay Harbor. The restaurant is near her and husband's Boothbay home.Read more
3-Year-Old Egyptian Boy Sentenced To Life In Prison
An Egyptian toddler was sentenced to life in prison for crimes he allegedly committed while participating in a protest in support of former President Mohamed Morsy, according to CNN.Read more
Missing? Zimbabweans continue searching for their president
Barely two weeks after his much celebrated million-dollar birthday, Zimbabweans are looking for their president using the hashtag #BringBackOurBob. Read more
Iranian billionaire sentenced to death on corruption charges
An Iranian oil tycoon has been sentenced to death for withholding billions in oil revenue, which prosecutors say he channeled through his businesses, UPI reports.
Billionaire Babak Zanjani was convicted of corruption, fraud and economic crimes, a judiciary representative said in a press briefing. Read more
Zimbabwean President Mugabe holds million dollar 92 birthday party in a poverty stricken country
I will retire at 100! The world's oldest leader, Zimbabwe's president Robert Mugabe marked his 92nd birthday at a nearly $1 million party organized by supporters in a poverty-stricken area on Saturday February 2016. The president's lavish birthday celebrations drew criticism from opponents who said the celebrations were an affront to ordinary Zimbabweans. Mugabe, who turned 92 on Sunday, February 21, 2016 has ruled for 36 years during an era marked by vote-rigging, mass emigration, accusations of human rights abuses and economic decline. Read more
Obama: I could win third term as president. But...
President Obama insisted that he could run and win a third term as president if he wanted to, but assured Americans that he would follow the lead of previous presidents before him. The talk triggered recollections of topics ranging from amnesty to health care to gay marriage, on which Obama made comments that turned out to have a short shelf-life, and raised the question of what would happen if he did seek a third term. Read more
Viral video shows heartbroken girl crying after learning that Obama will soon leave office
President Barack Obama has said he is "not unhappy" that he isn't up for another term, but one woman's granddaughter is downright in heavy tears. A woman named Caprina Harris posted a video to Facebook showing her granddaughter crying heavily after learning that Obama will soon leave the White House.
"Tell me why you're crying," Harris is heard asking. Read more
Passenger Plane makes emergency landing after two female flight attendants started fighting
It was a big shame as two female workers of Delta Airline started fighting while Plane was mid-air - 37,000 feet above the ground. According to source, trouble broke out around 40 minutes into the Delta flight from Los Angeles to Minneapolis in the US between two cabin crew arguing about 'work issues'. Read more
Nigerian pastors, their luxury lifestyles and private jets
There are about 163,000 millionaires in Africa according to latest report. Notable among them however, are Nigerian Church pastors. Nigerian prosperity pastors emerged among the wealthiest pastors in the world, but their luxury lifestyles are at great variance with the level of poverty of most of their church members who struggle to get food to eat every day. Notwithstanding their level of poverty, they faithfully make donations to the churches hoping to receive blessings from their millionaire pastors. Read more
Debt Crisis: More Greek women forced into prostitution out of hunger!
Six years of crippling financial crisis has sent Greek female students to the streets. A new report by Gregory Lazos of Panteion University in Athens revealed that more Greek women are now working as prostitutes, selling sex for as little as $2 with others doing it 'just for a cheese pie or a sandwich because they are hungry. The author reports that there are now around 18,500 sex workers in Greece as a result of the country's crippling debt crisis. Read more
South Africa University Students clash with police during protest over tuition increases
South Africa university students protesting against increase in tuition clashed with riot police officers on Wednesday October 21, 2015 outside the Parliament building in Cape Town. This is the latest in a series of student demonstrations that have gripped South Africa this year. Read more
Viral video shows government official molesting and striping woman naked in a restaurant
A Chinese government official has been expelled after scandalous videos of him molesting and stripping a woman naked in a restaurant went viral!
The video shows Chen Jianming, Deputy Secretary of a local Communist Party in Jiangsu province, eastern China, attempting to rip off a woman's shirt and shorts as the woman struggled to free herself from him.
Read more
Next Page 1 2 3 4 5 6 7 8 9 10 11 12 13 14 15 16 17 18 19
---
YOU MAY ALSO LIKE:

Click each photo to read

26 of the most stunning 2014 World's most powerful The look that men find
spots in Africa musicians most attractive

13 habits of exceptionally Advertised jobs and 10 things ladies do after
likeable people interview tips break-up