Click to post Home Love is beautiful My Forum Register Store Like us on FB Viral Next page
Algerian man sues wife a day after wedding for deceit by make-up!
An Algerian man has sued his new wife for $20,000 because of fraud and the alleged psychological distress she caused him when he first saw her without makeup. The man took his wife to court just a day after their marriage, accusing her of not looking as pretty as before the wedding and of cheating him with much make-up.
According to Emirates 24/7, he told court in the capital Algiers that he was shocked when he got up in the next morning and found that his wife looked so different, that he could not recognize her.
Newspapers in the North African Arab country said the groom swore in court that he even mistook his wife for a "thief who came to steal his apartment".
"The groom told the judge that he could not recognize his wife after she washed the make-up off her face.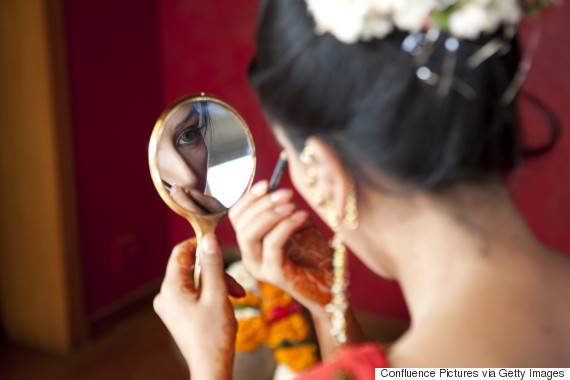 "He said he was deceived by her as she used to fill up her face with make up before their marriage," the papers said, quoting a court source.
"He said she looked very beautiful and attractive before marriage, but when he woke up in the morning and found that she had washed the make-up off her face, he was frightened as he thought she was a thief.
"The groom told court that he is demanding $20,000 damages for his psychological suffering."
According to Yahoo! News, this isn't the first time a case like this has gone to court. A man in Saudi Arabia divorced his wife after lifting her veil at their wedding. The pair had never met before they were wed.
The story should be taken with a grain of salt however as sources are vague. A similar story that alleges a Chinese man sued his wife for bearing ugly children has been circulating online since 2004 and is false, according to Snopes. The story claims that after having children the woman came clean and admitted she had paid nearly $100,000 on plastic surgery.
Sources: Emirates247, Yahoo
Click to post Home Love is beautiful My Forum Register Store Like us on FB Viral Next page
YOU MAY ALSO LIKE: Click each photo to read

Ten things women do Finding power to Teenage girl who underwent
after break-up! overcome worries surgery to win back ex boyfriend

You look different! Online lovers Unfailing Love The look that men find
lovers fighting after first time meeting most attractive