Indonesia rejects international pleas for mercy and executes 4 drug convicts
Despite international pleas to president Joko "Jokowi" Widodo by Huma Rights Watch to commute the death sentences of at least 14 people scheduled for executions for drug trafficking, Indonesia executed four out of 14 by firing squad on Friday 29, 2016. Indonesia's deputy attorney general confirmed.
The 14 convicts include four Indonesians, and ten foreign nationals – all convicted of drug-related offences. Photo shows ambulance carrying the body of one of the four men executed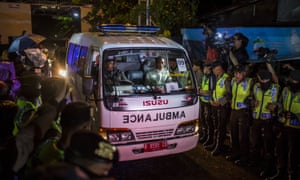 Photo shows a number of police personnel proceed to Nusakambangan
prison island in Cilacap, Central Java, on Tuesday, ahead of the executions
Contrary to Indonesian law and international standards, the families were only informed of the decision this morning. Indonesian law requires that relatives be informed at 72 hours in advance.
"President Jokowi should not become the most prolific executioner in recent Indonesian history," said Rafendi Djamin, Amnesty International's Director for South East Asia and the Pacific.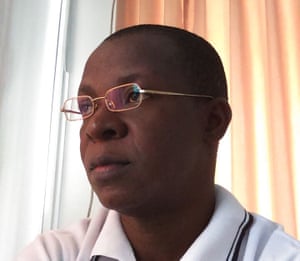 Photo shows Humphrey Jefferson Ejike Eleweke, known as Jeff, executed Photo shows Michael Titus Igweh,
"Jokowi still has time to pull back from these unlawful executions, before inviting global notoriety"
- Rafendi Djamin, Amnesty International's Director for South East Asia and the Pacific.
According to CNN, Noor Rachmad told reporters outside the Nusakambangan prison in central Java that authorities have not decided when 10 other prisoners are set to be executed.
"It was not a pleasant thing to do but it was to implement the law," he told reporters.
"The executions are... aimed at stopping drug crimes."
Two Nigerians, one Senegalese and one Indonesian man were executed, the attorney general's office confirmed. Prior to their executions, several petitions to review their cases were denied.
One of the Nigerians was Humphrey Jefferson Ejike, who was unjustly killed, according to his legal team.
"At this stage, we can only say that we are extremely disappointed with the fact that Jeff was executed," said Raynov Tumorang by text message. "The government does not respect the ongoing legal process on Jeff's case."
"There is strong evidence of torture and he was not given a fair trial. Racism towards our client can be seen in the court decision."
Cheikh Niang, Senegal's ambassador to Japan, who also oversees Indonesia, told CNN that the
executed Senegalese prisoner was in fact from Nigeria but had traveled to Indonesia on a fake passport.
He said he visited the prisoner on March 15 and informed the Indonesian authorities.
Indonesia is one of 33 countries worldwide that use the death penalty for drug offenses.
Sources: CNN, Abiyamo, Thejakartapost, Theguardian, Amnesty
---
You May Also Like:
Colombian model faces death penalty in China for smuggling drugs
A Colombian model, Juliana Lopez is facing death penalty in China after being arrested for smuggling drugs in her laptop across the border.
22-year-old Juliana Lopez from Colombia was arrested for smuggling drugs at Guangzhou Airport in south China's Guangzhou Province, on July 18, 2015. Read more