Scroll down...


Post here Love stories Store Register Relationships Politics Celebrity Pg 1 Pg 2 Pg 3 Pg 4 Crime What's new?
Emotional reunion! Ohio woman finds out co-worker is her biological mom
It was a very emotional moment for Sonya Mitchell-Clark when she found out that the woman in her company , her co-worker, is actually her biological mother!
"There's a Francine that works at my job. She works in VR and she works at the front desk," Mitchell-Clark said.


She reached out to her friends on social media. And then, a day later, she got the long-awaited phone call from her birth mother.
"She called me and I said, 'Is this Ms. Francine?' She said, yes. I said, 'I think I'm your daughter'," Mitchell-Clark said
Simmons said she always wanted to connect with the daughter she gave up as a 15-year-old mother, but didn't know how.
They had plenty to talk about, but started with tears of joy.
"I'm still in shock," Simmons said. "It's amazing."
The two only live a few minutes from each other in Youngstown.
Mitchell-Clark further discovered that she has three sisters she didn't know about. And one of them, Kamala Cummings, works at InfoCision as well.
"I feel a sense of relief for my mother," said Kamala Cummings.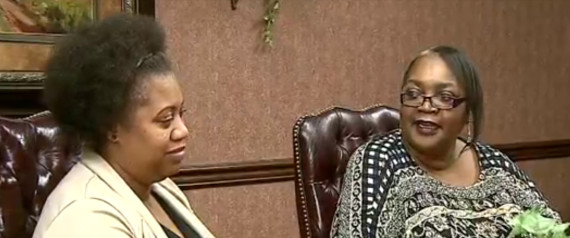 "It's just amazing that all this time we're thinking about her and trying to find her and she was trying to find us, too," said Maisha Cummings.
Mitchell-Clark said her adoptive parents have always been supportive of her, and encouraged her to try to find her mother.
"Now, we've got a bigger, extended family where we can just be together," Simmons said.
Post here Love is beautiful Store Like us on FB Viral Page 1 Page 2 Page 3 Page 4What's new?
---
You May Also Like:

Tears of joy! Woman finds Man finds son on Facebook Teenager who 'underwent plastic surgery
lost sister after 70 years after 25 years to win back ex-boyfriend

Finding power to overcome China's terrifying skywalk: 5 things you must let go to
worries Rule no.1 Don't look down be happy and successful
---