You can be happy every single day!

- 7 ways to achieve daily happiness
You are wonderfully made. Your life, because of who you are, is special and beautiful. You deserve nothing, but a happy and peaceful life everyday!
Our reasons for joy are abundant! As we wake up each day, we are faced with beautiful opportunities and possibilities. If we focus more on those reasons, we will not only be happy, but infect others with our happiness. Happiness is infectious. It spreads among friends, neighbors, siblings and spouses like a virus. It spreads through social networks - meaning that your happiness could influence the happiness of someone you've never even met! A daily happy life is a choice we need to make. Our attitudes, actions and inactions determine our happiness for every single day. Yes, you can be happy and live with peace of mind every single day, despite problems!
Granted, each day comes with its own challenges. This is part of life. In this system, there will
always be ups and downs, successes and failures, wins and losses, etc. These are common situations in life at the moment, and should never be allowed to take away the inner joy and happiness we deserve. Happiness is a choice we need to make.
When something goes wrong in your life, try to think about a solution instead of worrying and dying in sadness and self-pity. People who live a happy life do not allow challenges to negatively weigh them down over extended period of time. Rather, they see them as small stuffs.
Yes, if we approach daily challenges and issues with the right mental attitude and action, they can only help to make us grow stronger and wiser as we prepare for the next day. Indeed, we can live in happiness every single day!
To achieve this, we need to learn these 7 things:
Learn the purpose of life
The starting point of happiness is to learn the main purpose of life. Why are we here, and why do
things happen the way they do? Our full knowledge about the main purpose of life will define the way we live our lives every single day, maintaining strong personal relationship with our creator. Individually, we are wonderfully made and talented in various ways. We are created to enjoy life forever doing God's will. That purpose has not changed, and will never change. The greatest thing is that we have a beautiful choice to make – to live in harmony with the main purpose of life!
Never become discouraged or weighed down by mistakes and failures - whether present or past. Whatever happened, do your best to fix them within your human power, and let it go. Fix them as much as you can, then move on wiser and stronger. We are made to be moving forward in life, not backward. Martin Luther King Jnr once said "If you can't fly, then run, if you can't run, then walk, if you can't walk, then crawl, but in whatever you do, you have to keep moving forward." Make things happen now, let happiness and joy flow in your life. Cherish the beauty of the moment! George Bernard Shaw is right when he said that "The possibilities are numerous once we decide to act and not react."
Learn to live in the Present
Our power is in the present. Yesterday is gone, and gone forever. So, let it go! Let yesterday go so you can focus on the present. To be happy, we need to learn that our power and cause for happiness is in the present, not in the future. Happiness is something for the present, and not something to be postponed for the future.
Whatever happened in the past that crops up to snatch away your precious happiness should
be handled it with a positive attitude! Fix it as much as you can and start a new chapter in your life. The past is the past. Our power is in the present. Only when we learn to live in the present moment can we enjoy inner peace of mind and happiness. Never worry about tomorrow. Tomorrow will take care of itself.
The 'what ifs', 'Had I knowns', 'If onlys', etc., are anti-happiness thoughts and waste of mental energy which can speed up our aging process and turn us to dust even before we die. The past is the past. Learn from the past and move on! Our power comes with the control you have today, not yesterday or tomorrow. We have a choice to make - to use that power effectively for your happiness now. Do not sell the power of the present moment and become broken and depressed. Abraham Maslow once said "If you deliberately plan on being less than you are capable of being, then I warn you that you'll be unhappy for the rest of your life."
Yes, obstacles are common and will not go away, but we have the power to manage them and turn them into a beautiful cause for joy and happiness.
Learn to love
Love is a beautiful thing. Love is life! When we fill our lives with love and positive thoughts every day, we will have no much time for worries. Everything about happiness is centered on love. Love your creator, and love your neighbor. Love the people around you for their beautiful qualities. Focus more on their positive sides, and be kind to them. Among humans, the best thing to hold unto in life is one another. True happiness is not found in possessions. So, let your love flow and let your good conduct shine every single day among humans. Let no one comes to you without leaving happier. The truth is: You will be happy when you make others happy.
Set reasonable goals and believe you can achieve them. Be realistic and reasonable in your expectations of people around you. Not every human will love you in return for your good works. However, you will be happier if you continue to show them love, respect, and kindness every single day.
Learn to be content
Contentment is a very important aspect of a happy life. Contentment is not just being okay or
relaxed with your situation with no way out. Of course, there will always be need for improvement for a better life. Contentment is about concentrating more, and being thankful for what you have instead of what you want. Before thinking about your 'Wants', ask yourself, 'Do I really NEED what I want?'
Learn to apply contentment in your everyday life and in all the things you do.
Let's give an example, say you begin the day with a plan to accomplish many things, but unfortunately did not accomplish as much as you planned despite your best effort. Then you start struggling to be happy. In this situation, the best way to be content and be happy is to look at those things you have already accomplished despite limited time. Do not focus on what you were not able to accomplish. Consider what you have done instead of what you have not yet done. In like manner, always think more about what you have instead of what you do not have. Why should you be unfair to yourself?
Yes, according to Aristotle, Happiness is self-contentedness!
When you are content with what you have, you will be happy. Do not love money such that your whole life is focused on pursuit of wealth. Do not love money or material things more than humans. The less you focus on material things, the happier you will be every single day! True happiness does not come as a result of abundant material possessions. Think about this: The happiest man who lived, our lord Jesus Christ once said that he had nowhere to lay down his head. Yes, daily happiness is a thing of the inside and actions, not that of the outside.
Learn to choose friends
It is very important that we ask ourselves, 'who are the people we spend time with every day - online and offline? Take a moment and think about who they are. Do they seem happy, optimistic, and positive with good conduct in their ways? Do they share the same goals and aspirations in life with you? Or, are they totally opposite of who you really want to be in life. If they are opposites, why do you still keep associating with them? Jim Rohn once said "You are the average of the five people you spend the most time with."
The simple way to everyday happiness is: Be yourself! Remain focused and maintain good conduct, loving your creator and loving your neighbors as you love yourself, but never try to please the world! Never try to make everybody your friend. Else, you will destroy yourself!
What about the kind of news you read or listen to every day? What kind of TV programs and movies do you watch every day? Are they things that take away happiness from you, leaving you hopeless with negative thoughts, or do they bring daily happiness and good life? Are these good examples for the good and happy life you truly deserve? To live in happiness every single day, these questions must be considered and addressed. Yes, we need to choose our associates wisely!
Learn to laugh
Your sense of humor is one of the most powerful tools you possess to support your good health and happy life. The benefits of laughter and sense of humor can never be over emphasized!
Laughter brings your mind and body into balance, and can create paradisiac feelings in you. Research even shows that good laughter is a powerful antidote to stress, pain, and conflict.
Humor lightens your burdens, inspires hopes, connects you to others, and keeps you grounded,
focused, and alert. Learn to laugh and enjoy the beauty of life and people around you!
Conversely, when you "become the problem" to yourself, by taking life too seriously, constantly worrying and thinking about things - the past, the present, the future, or even about other peoples businesses, it can be hard for you to be happy and live a quality and good life. Not only that, you may end up becoming a burden and a problem not just to yourself, but to others around you who you weigh down with your personal problems.
If you learn to laugh, play, and have good fun with others, your daily life will not only be enjoyable, but will help others achieve happiness. Yes, laughter and good sense of humor connects you with others. It helps renew and refresh your overall life while building and strengthening your relationships
Obstacles and problems will always be there. They are part of life. They cannot disappear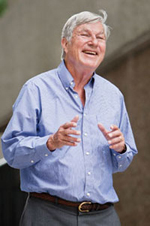 overnight. So, daily happiness comes not when we get rid of ALL our past, present, and future problems, but when we change our relationship and attitude(s) toward them. Yes, we can be happy every single day when we see our problems as a potential source of wisdom and growth, and a beautiful opportunity to practice patience and humility.
Learn your limit as a human
Finally, learn your limitations as a human. Learn the fact that certain things are beyond our abilities to handle. Happiness does not come when we are able to accomplish everything in life, or solve all problems. Happiness comes when we learn to manage them and move on.
In addition to recognizing our human limitations, learn to be positive about life in all things and be thankful no matter the problems. No doubt, some problems need to be solved (if you need help, ask for help). Some problems however are beyond human abilities. For instance, can you hurry the sunrise? Can you control day and night, sunshine and moonlight, etc.? So, why worry ourselves over such things?
Sadly, there are some problems that we create for ourselves by struggling to make our life different than it actually is, and by trying to control what we cannot. Sometimes, we even tend to anticipate problems that do not exist thereby putting heavy loads and perceived problems on our heads. These can only result to depression, sadness, and unhappy life.
Inner peace of mind and happiness is achieved by understanding and accepting the reality of the present life – the pain and pleasure, success and failure, births and deaths.
Yes, to live a happy life every day, we need to recognize our human limits.
*Do you have anything to add? Feel free to post your comment. We always love to hear from you!
Echelah Mazi is a writer about
positive thinking and happy life.
---
YOU MAY ALSO LIKE:

Click each photo to read

Finding power to overcome Re-birth of an Eagle - A Gaining power and life
worries... lesson in personal change by accepting change

5 things you must let go Finding power to overcome Unfailing love
to be happy worries...