Scroll down...
Viral video shows elderly woman kissing teenage boy inside elevator
Surveillance footage showing a very creepy encounter between an elderly woman and a teenage boy in an elevator has gone viral on the Chinese internet. Little did the woman know there was surveillance video in the lift!
Latest job opening: Click here to apply!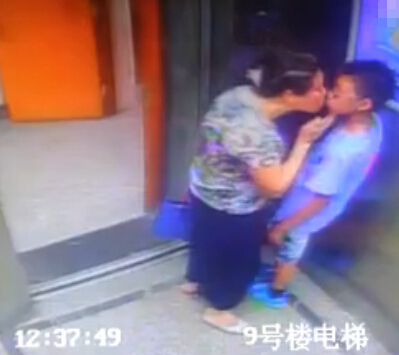 According to Sina News, after the two entered the lift of a residential building, the woman thought to be in her sixties seemed to fall in love at first sight with the innocent boy and suddenly tried to give him a smooch. She made repeated advances towards the boy who eventually pushed her away after she managed to land a kiss, reported People's Daily Online.
The clip has appeared on several Chinese news sites and has caused a flurry of comments from horrified viewers. As at time of report, details of the harassment remain unclear.
One viewer wrote: "Really terrible," while another simply added: "Nauseating".
In the video, the woman took the boy by surprise when only two of them were in the lift. She seemed to successfully lock lips with the kid on her first attempt. Encouraged and excited, she went for another kiss, but the boy forcefully pushed her away to the other side of the elevator shattering the old woman's fantasies.
The footage has sparked outrage...
The video has been widely shared by Chinese media, including Jiangsu Television, and many questioned the woman's actions.
It is not clear whether the incident is being investigated.
YOU MAY ALSO LIKE: Click each photo to read

Ten things women do Finding power to Teenage girl who underwent
after break-up! overcome worries surgery to win back ex boyfriend

Woman remarries first love Unfailing Love Don't sweat the small stuff
after 51 years ...it's nothing but small stuff