Our message: Love is beautiful. Love is life! Though we live in a world hyper concerned with the way people look, love has the power to make us overlook physical imperfections and see people for who they are inside. Learn to love today!

Post here Love is beautiful Store Join mailing list Viral News! Page 1 Page 2 Page 3 Page 4 What's new?
Zimbabwe currency just a mere tissue paper!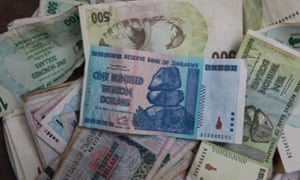 In currency management, Zimbabwe is going through one of the toughest and roughest times in their history as a nation. Inflation is at the highest and worst rate. National currency is worthless. 35 quadrillion of Zimbabwe's currency gives you just one US dollar. A holder of 100 trillion bank notes receives 40 cents. Basic food such as bread and milk cost hundreds of trillions of bank notes to buy. Certainly, Zimbabwe is going through a period of deep currency crisis. President Robert Mugabe has approved that before end of September 2015, the worthless national currency be thrown away completely.
The southern African country started using foreign currencies including
the US dollar and South African rand in 2009 after the Zimbabwean dollar was ruined by hyperinflation, which hit 500 billion per cent in 2008.
At the height of the country's economic crisis, Zimbabweans had to carry plastic bags bulging with banknotes to buy basic goods. Prices were rising at least twice a day.
From Monday, customers who held Zimbabwean dollar accounts before March 2009 can approach their banks to convert their balance into US dollars, the governor of the Reserve Bank of Zimbabwe, John Mangudya, said in a statement.
Zimbabweans have until September to turn in their old banknotes,
which some people sell as souvenirs to tourists.
Bank accounts with balances of up to 175 quadrillion Zimbabwean dollars will be paid $5. Those with balances above 175 quadrillion dollars will be paid at an exchange rate of $1 for 35 quadrillion Zimbabwean dollars.
The highest – and last – banknote to be printed by the bank in 2008 was 100tn
Zimbabwean dollars. It was not enough to ride a public bus to work for a week.
The bank said customers who still had stashes of old Zimbabwean notes could walk into any bank and get $1 for every 250tn they hold. That means a holder of a 100tn banknote will get 40 cents.
The bank has set aside $20m to pay Zimbabwean dollar currency holders.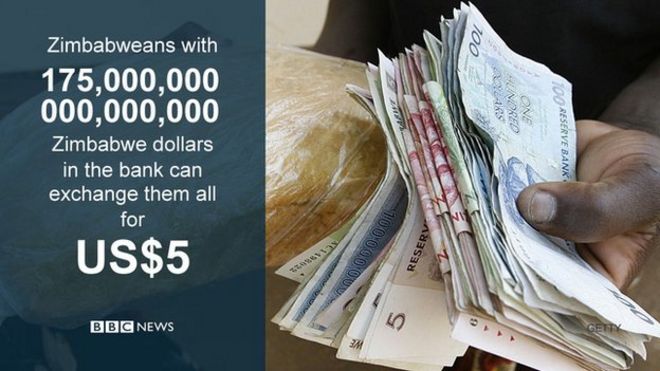 A holder of a 100 trillion bank note will only get 40 cents in US Currency. Zimbaweans need to carry plastic bags full of money to buy basic goods like bread and milk.
Source: Guardian
YOU MAY ALSO LIKE:

Click each photo to read

You can be successful with Re-birth of an Eagle - A Don't sweat the small
or without college degree lesson in personal change stuff...

Traits young millionaires 8 ways to own your life... How to make money
have in common without a job

26 of the most stunning 2014 World's most powerful The look that men find
spots in Africa musicians most attractive